Daniel Burke, born and raised in Erie, Pennsylvania, began his formal study of art at Erie Technical High School. He attended the Columbus College of Art and Design for several years and served in the U.S. Army for three years. With the aid of the GI Bill, he received his Bachelor's degree from Mercyhurst College and his Master's from Edinboro University of Pennsylvania. In addition to being an artist-in-residence at the MacDowell Colony in Peterborough, New Hampshire on two occasions, Burke has received numerous art honors.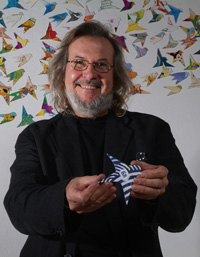 The artist has won prizes and honors in over 60 juried competitions; winning awards in 28 national and international shows. He recently received the Bellinger Memorial Award at the Chautauqua National Exhibition of American Art. Also of note, the artist has been honored with three Memorial Awards at the Carnegie Museum of Art; the Chautauqua Art Association Award; Mainstreams' Award of excellence; and prizes at the Greater New Orleans International Exhibition; Appalachian National Drawing Competition; and Ball State University's Drawing and Small Sculpture Show. Among fellowships received, he was awarded a Mid-Atlantic Arts Council grant for works on paper and was four times a recipient of a Pennsylvania Council on the Arts Visual Arts Fellowship, most recently in 2008. In 2001 Edinboro University of Pennsylvania named him a Distinguished Alumnus in Art.

To date, Burke has had thirty one person shows. Notably, his art has been presented at the Williams College Museum of Art in Williamstown, Massachusetts; the Southern Alleghenies Museum of Art; the Arlington Art Center and the Second Street Gallery in Charlottesville, Virginia; Gallery 937 in Pittsburgh; the Erie Art Museum; Clarion University; the University of Dayton; Edinboro University; Quincy College; Mercyhurst College; and Allegheny College. His exhibitions list also includes participation in shows at the Minnesota Museum of Art, El Paso Museum of Art, Butler Institute of American Art, Carnegie Museum of Art, Norfolk Museum of Arts and Sciences, Springville Museum of Art, William Penn Museum, National Design Center, C.A.G.E.-Cincinnati, SPACES in Cleveland, and the Pittsburgh Center for the Arts. He has been listed in Who's Who in American Art since 1973; Who's Who in the East; Dictionary of International Biography; International Directory of the Arts; Outstanding Young Men of America; International Who's Who in Art and Antiques; Biographical Directory of American Artists; Who's Who in Society and other publications.

He has participated in several invitational exhibitions of note; including, "Disconsolate Revelations" at Hallwalls Contemporary Art center in Buffalo; "The Black and White Show," Greenview Arts Centre, Chicago; "Three Rivers Salutes Three States" curated by Dr. Paul Chew of the Westmoreland County Museum of Art; "Art as the Image of America" at the Indiana University of Pennsylvania Museum of Art; and "Return to the Figure" at the Southern Alleghenies Museum of Art.

The artist's paintings, drawings, and installations are in the permanent collections of the Laguna Gloria Art Museum; Southern Alleghenies Museum of Art; the Erie Art Museum; IBM Corporation, Blue Cross; North Carolina National Bank; Del Mar College; Southern Utah State College; Clarion University of Pennsylvania; the Bayfront Convention Center of the City of Erie; as well as in other corporate and private collections.

He has been affiliated with the Northwestern Pennsylvania Artists' Association as a founder member since its inception in 1975, serving as its co-executive chairman until 1990. A member of the Associated Artists of Pittsburgh, he has participated in their Carnegie Museum of Art Annual Exhibitions since 1988.

He is a Professor of Art and Research Fellow at Mercyhurst University in Erie, Pennsylvania.